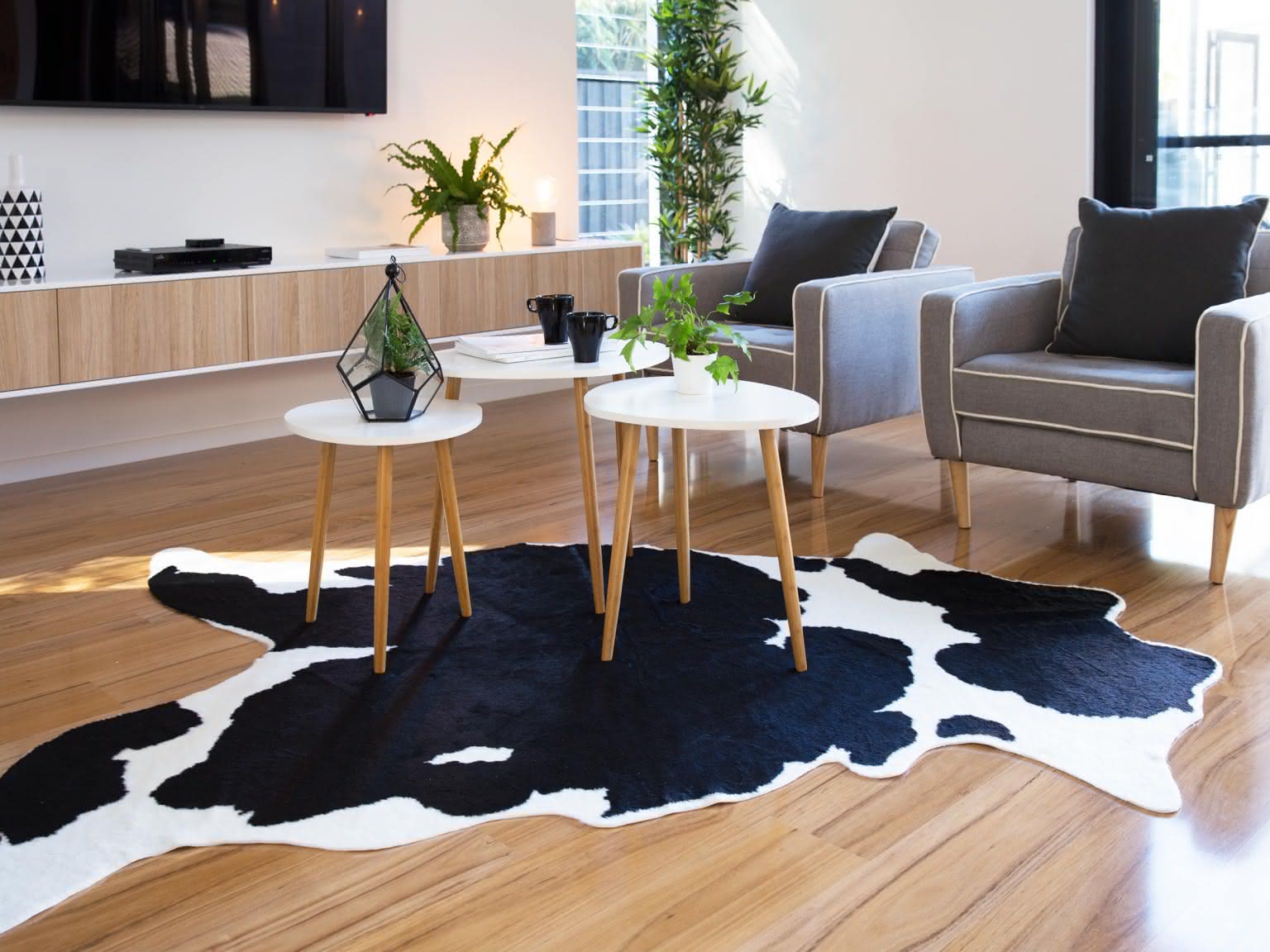 Adding decor to your home can be difficult because you don't know what to choose or how much you're willing to pay. Unfortunately, a lot of decorative items, especially rugs, do not last for a long time and will need to be replaced annually or every couple of years. If you're going to invest in a rug, you want to know that it is going to last for a while and will provide your home with an aesthetic appeal that you just wouldn't get from anything else. The best type of rug to accomplish this would be cowhide rugs. These cow rugs go with any type of home or decor that you might have. They are available in many different colors such as these.
Versatility
The great thing about cowhide rugs is that they are incredibly versatile. They can go just as well in a modern apartment as they would in a rustic country home. The reason they're so versatile is because they come in all shapes, sizes and colors. You can choose the one that speaks to you or you can go according to the specific decor that you'd like to match it with when making your purchase.
Beauty
Cow rugs are gorgeous and have a unique appeal all their own. They are made from natural and organic cow hide, and they are easy to keep clean as well. Just a quick flick of the rug outside every week and it's ready to provide a gorgeous space for your loved ones to relax and enjoy being at home. You can add the rug either to the floor or even use it as wall decor if this is something you feel will liven up the space it's added to.
Hypoallergenic
Cow rugs are hypoallergenic, which means that you won't need to worry that they are going to set off allergies or reactions to animal dander. The rugs are put through a process that removes any dander that is found on the animal and then cleans the fur thoroughly to prevent the dander from sticking to the hairs. This provides the buyer with a hypoallergenic animal rug that is an ideal choice even if you have allergies to animals and were unsure of whether or not you should add it to your home's decor.
Durability
Unlike many other rugs that fray and come apart over time, cowhide rugs last a very long time. In fact, when well-maintained, your rug can last up to 10 or 20 years with great use. In fact, a lot of people who have these types of rugs pass them down through the generations because of how durable and long-lasting they are. Obviously, where you buy your rug makes a difference in its durability, and always make sure that you're buying 100 percent pure cow hide.
How to Buy and How to Use
There are a lot of stores online that sell these rugs such as www.cowhiderugs.co.uk, and a few locally where you might be able to find one as well. The price differs according to the style, color and size, so have a budget in mind before you do your shopping or else you'll be paying more than you would have liked. You can use the rug any way that you'd like, but the majority of people who purchase these rugs put them down in their dens and living rooms to add a warm and cozy feel to the space. If the cow hide is softer and isn't lined, you can even use it as a drape over couches and recliners, or even as a wall hanging to add pep to your home. You can read more about these rugs here.