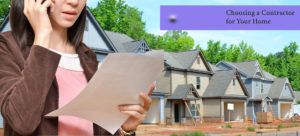 Making improvements to your home can provide you with a living space that you love. It can also provide more value to your property should you want to sell it someday. Big improvements can be difficult to take on as do-it-yourself projects, so it is important to find the best home improvement contractors in your area to help you complete the job. Here are the step you need to take in order to find the best contractor for your needs.
Get Referrals
The easiest way to start looking for a good home contractor is to ask for referrals from family and friends who have had work done on their own properties. They can provide you with the first-hand information you need to know about how professional the contractor is and what type of work they do. If you don't know anyone who has hired a home contractor before, you can always look through online reviews to find the top candidates in your area.
 Ask for Estimates
Once you have gathered a list of three to five contractor options, the next step is to talk to the contractor about your project and ask for an estimate. This estimate will let you know how much the contractor will expect the project to cost with labor and materials. It may also provide you with a time frame in which you can expect the work to be completed. These estimates will help you determine the best person for the job that meets you home improvement needs.
Do Your Research
Before you accept and contractor bid, it is essential that you understand everything you can about the contractor's business. You will want to do some research and make sure that the contractor doesn't have a long list of dissatisfied clients complaining about work or a bad habit of overcharging and not delivering the finished product on time. You will also want to know that the contractor is properly licensed in your area to do the work, otherwise you could be faced with the hassle of local and state governments getting involved in the process. Once you have checked these boxes, you can hire your contractor with confidence.